Shoji
•

Japanese paper in attractively shaped lattice frames

Regardless of what dimensions you require, we'll build you a Shoji. With each Shoji, we pay special attention to a harmonious grid pattern according to the golden section or the square grid. This gives the lattice frame its special aesthetics.
For the Japanese sliding door or sliding wall, the wood of the North American hemlock fir has proven; it has a warm tint and, due to its fine and straight growth, is extremely resilient (particularly important in a high-use built-in wardrobe with sliding doors running in front of each other). We only use carefully hand-selected woods. Being a pure natural product, there might be variations in grain and colour. Lighter and darker areas of the wood will align in time while some small occasional dark inlets make texture very lively.
Rail system for lattice frames
Standard
• Easy sliding with 1 roller per runner hanging in a metal rail
• Construction height 38 mm, blinded
• The runners are adjustable and detachable
Exclusive
• Very quiet running with 2 double rollers per runner hanging on an aluminium rail
• Low construction height: inserted into a 28 mm high grooved hemlock rail
• Runners the parts are adjustable and detachable without tools
• Rails are supplied pre-assembled
Standard and Exclusive
• Floor track in grooved wooden rail or groove in Shoji and bottom
Elegant surfaces
The wood of the lattice frames is finely sanded and treated as standard with a natural resin-hard oil. On request, it can also be painted – in any color that you like. If you prefer stain colors ("positive stains"), you can select them from the →Oberflächenkarte (surface map).
Hemlock surfaces
Naturally oiled (default)

Clear varnished

White paint finish RAL 9016

White varnished RAL 9016

Red paint finish RAL 3003

Brushed varnished "kashmir"

Black paint finish RAL 9005

Grey paint finish RAL 7016

Hemlock stain shades
Stain shade 1

Stain shade 2

Stain shade 3

Stain shade 4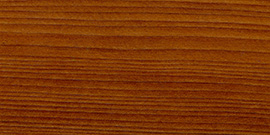 Stain shade 5

Stain shade 6

Stain shade 7

Stain shade 8

Fine covering
Our original Japanese paper, which we import ourselves, is known for its special resistance to tearing. It is applied taut over the entire area of the lattice frame. You can choose between structured and smooth surface Japanese paper.
Incidentally, it is so sturdy that it can only be damaged using a sharp object. Should the Japanese paper be damaged, it's not the end of the world: each field in the lattice frame can be replaced individually.
If a Shoji is visible on both sides (e.g. for a room door or a Japanese room divider), we also apply back lattices, so that the Japanese paper lies within the lattice frame.